Here's a list of all the books written by our hosts! Happy reading :)
Heads up: book descriptions for later novels in a series (i.e. book 2) may contain minor spoilers for previous books.
Use these links to jump to a specific author:
Want to read all of our books? Click this link and it will magically add all our books to your Amazon cart. From there, you can deselect books that you aren't interested in.
Note: this page has affiliate links. Use these links to help support the show at no extra cost to you!
Jed Herne's Books:
The Thunder Heist (Twisted Seas #1)
A relentless thief. A magical device. And a heist to change everything.
Kef Cutmark is the greatest pirate in the Twisted Seas. Just ask her – she's more than happy to talk about her exploits. She's a woman of sharp wit and an even sharper sword. She's killed sea monsters, toppled kings, stolen priceless artifacts, and made a hefty sum of gold along the way.
But her charming, roguish exterior hides a dark past. As a child, she was a slave in Zorith – a tangled jungle of a thousand boats, all lashed together to make a floating city-ship. After a life spent running from her past, she's had enough. Now, it's time for revenge.
Zorith is powered by a magical device that draws energy from lightning. Mysterious, unique, and locked in an unbreachable tower, it's the envy of Zorith's rivals.
And Kef? She's here to steal it.
To do that, she'll need a water-breathing mutant, a grumpy architect, and a deaf alchemist. If Kef can take the device, it will cripple Zorith, and serve out justice for what the city did to her. But with all the odds stacked against Kef, failure looks more likely. And if she fails, she'll never find peace again.
Across the Broken Stars
Leon has a secret.
He was once an angel – a winged warrior sworn to protect Paya, a realm where people live on discs that float in space.
He failed.
Now, Leon's a broken man, trying to forget the past. He thinks he's the last angel. But then a young fugitive stumbles onto Leon's doorstep. She's an angel, too. And she has a riddle leading to a place where angels still live. Or so the stories claim…
Desperate for redemption, Leon begins a perilous quest through myth and folklore. But will Leon and the fugitive find their legendary destination? Or will Leon lose his last chance for salvation?
Fires of the Dead: an Epic Fantasy Novella
A thieving sorcerer makes one last grasp for glory.
Wisp is old. Too old for a thief, too old for a sorcerer, and too old to heal all the scars he's torn in the world. He needs to retire, and he needs it soon.
Rumours have spread that a sorcerer's skull is hidden in a desolate, haunted forest. And people will pay big money if that rumour turns into truth.
Wisp leads his misfit thieving crew into the forest, hoping to win the riches he so badly deserves. But when rivals descend upon the forest and nightmares come to life, he'll need all his old tricks to survive – and some new ones, too.
Wisp might be long in the tooth, but he can still bite. Or at least that's what he hopes …
Dyrk Ashton's Books:
Paternus: Rise of Gods (Paternus #1)
Even myths have legends. And not all legends are myth.
When a local hospital is attacked by strange and frightening men, Fiona Patterson and Zeke Prisco save a catatonic old man named Peter—and find themselves running for their lives with creatures beyond imagination hounding their every step.
With nowhere else to turn, they seek out Fi's enigmatic Uncle Edgar. But the more their questions are answered, the more they discover that nothing is what it seems—not Peter, not Edgar, perhaps not even themselves.
The gods and monsters, heroes and villains of lore—they're real. And now they've come out of hiding to hunt their own. In order to survive, Fi and Zeke must join up with powerful allies against an ancient evil that's been known by many names and feared by all. The final battle of the world's oldest war has begun.
Paternus: Wrath of Gods (Paternus #2)
On the run from an ancient evil and his army of terrors straight out of myths from around the world, Fi and Zeke aid Peter in his globe-trotting quest to seek out the remaining Firstborn, uncover the enemy's plans, and gather the warriors of old for what may become the final battle in the world's oldest war.
Along the way, Fi and Zeke discover they, too, have strengths of their own—though they come at a cost neither may wish to bear.
Paternus: War of Gods (Paternus #3)
From Africa to Asgard, to an invisible island in the Pacific and the Bone Road of a forgotten realm, Fi and Zeke must come to grips with not only their newfound abilities, but also who and what they are—and accept what they are becoming: wielders of ancient and dangerous powers, warriors, and maybe even heroes. But the end of worlds is coming, and time is short…
Titans will clash. Gods will battle. Monsters will swarm.
Can Peter and the Deva possibly defeat their age-old enemy in the face of overwhelming odds against them? There's only one way to find out.
Rob J Hayes' Books: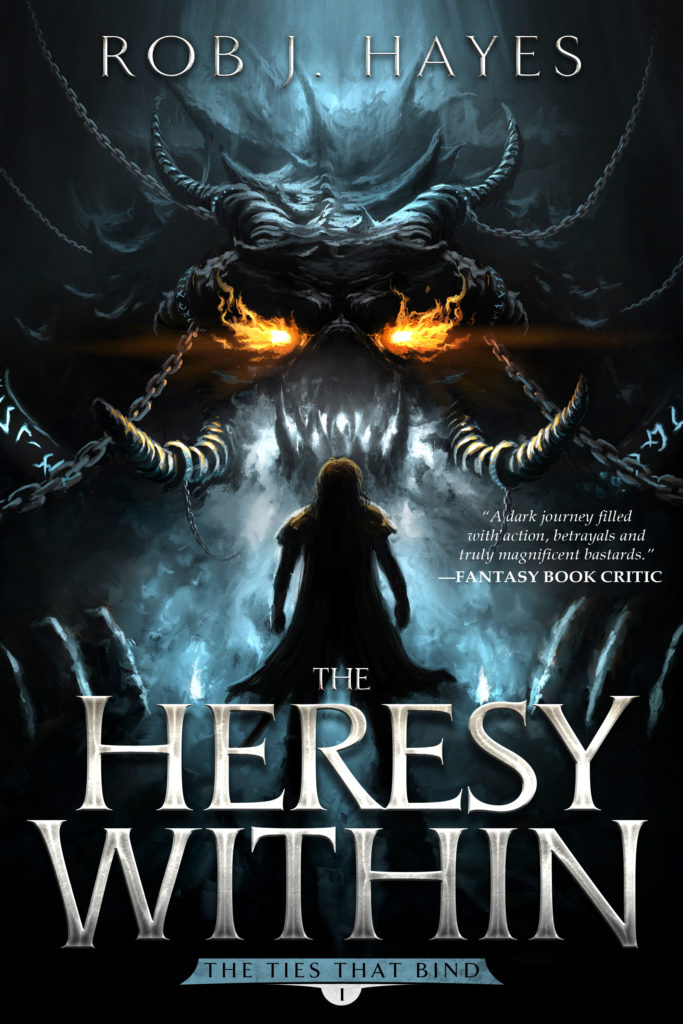 The Heresy Within: The Ties that Bind #1 (First Earth Saga)
When there are no heroes left, it's up to the villains to save the world.
Even the best swordsman is one bad day away from a corpse. It's a lesson Blademaster Jezzet Vel'urn isn't keen to learn. Chased into the Wilds by a vengeful warlord, Jezzet makes it to the free city of Chade. But instead of sanctuary all she finds are more enemies from her past.
Arbiter Thanquil Darkheart is a witch hunter for the Inquisition, on a holy crusade to rid the world of heresy. He's also something else: expendable. When the God Emperor gives Thanquil an impossible task, he knows he has no choice but to venture deep into the Wilds to hunt down a fallen Arbiter.
The Black Thorn is a cheat, a thief, a murderer and worse. He's best known for the killing of several Arbiters and every town in the Wilds has a WANTED poster with his name on it. Thorn knows it's often best to lie low and let the dust settle, but some jobs pay too well to pass up.
As their fates converge, Jezzet, Thanquil, and the Black Thorn will need to forge an uneasy alliance in order to face their common enemy.

The Colour of Vengeance: The Ties that Bind #2 (First Earth Saga)
BEATEN, BATTERED AND DAMNED NEAR BROKEN, with a bounty on his head so large he's tempted to turn himself in, the Black Thorn finds himself on trial for the crime of being him. Despite the impending probability of death he has but one thought on his mind; taking revenge against the Arbiter who took his eye.
In order to carry out his vengeance Thorn must first escape Sarth and recruit a new crew, each one with their own designs on revenge.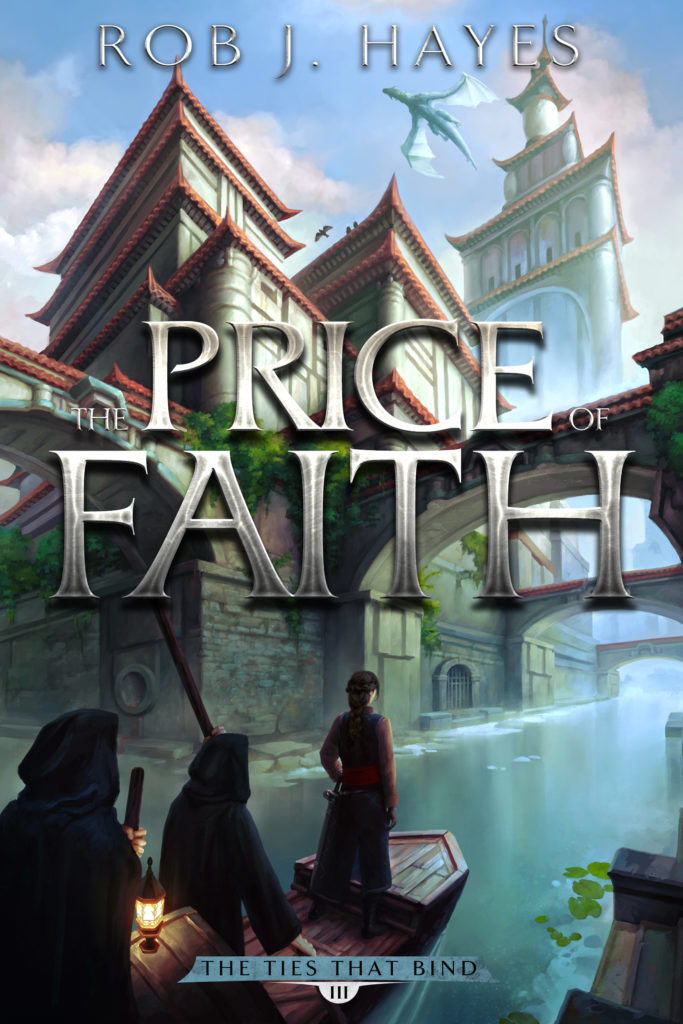 The Price of Faith: The Ties that Bind #3 (First Earth Saga)
NOT EVERYONE HAS A DESTINY.
Separated and miserable, Thanquil Darkheart and Jezzet Vel'urn both have their reasons for wanting to leave the Dragon Empire. Jezzet flees from the wrathful fury of an Empress scorned while accompanied by the ever insidious Drake Morrass and Thanquil sets out to find and judge his one heretical loose end.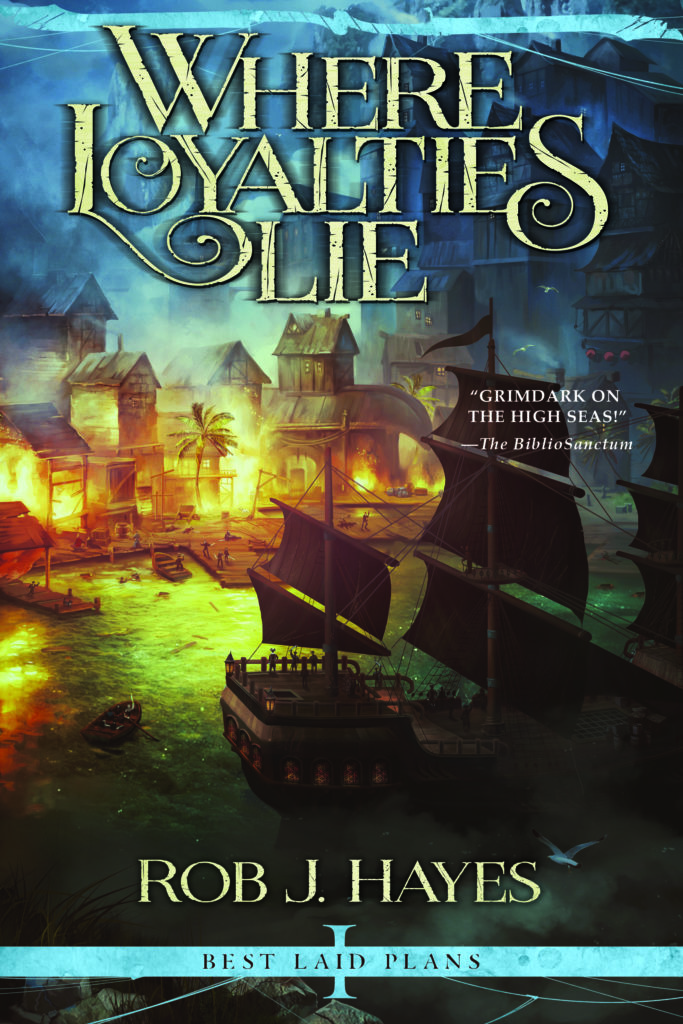 Where Loyalties Lie: Best Laid Plans #1 (First Earth Saga 4)
Everybody knows Drake Morrass is only out for himself.
As the fires of a dying city burn on a distant shore, Drake sees an opportunity to unite the other pirate Captains under his flag and claim a crown for himself. If he is to succeed he will need allies and the Oracle named Keelin Stillwater, the best swordsman in the isles, as Drake's right hand.
With enemy ships sailing his waters and setting fire to his cities, and the sinister Tanner Black threatening to steal the throne before Drake has even sat in it, Drake must somehow convince the other Captains that his best interests are also theirs.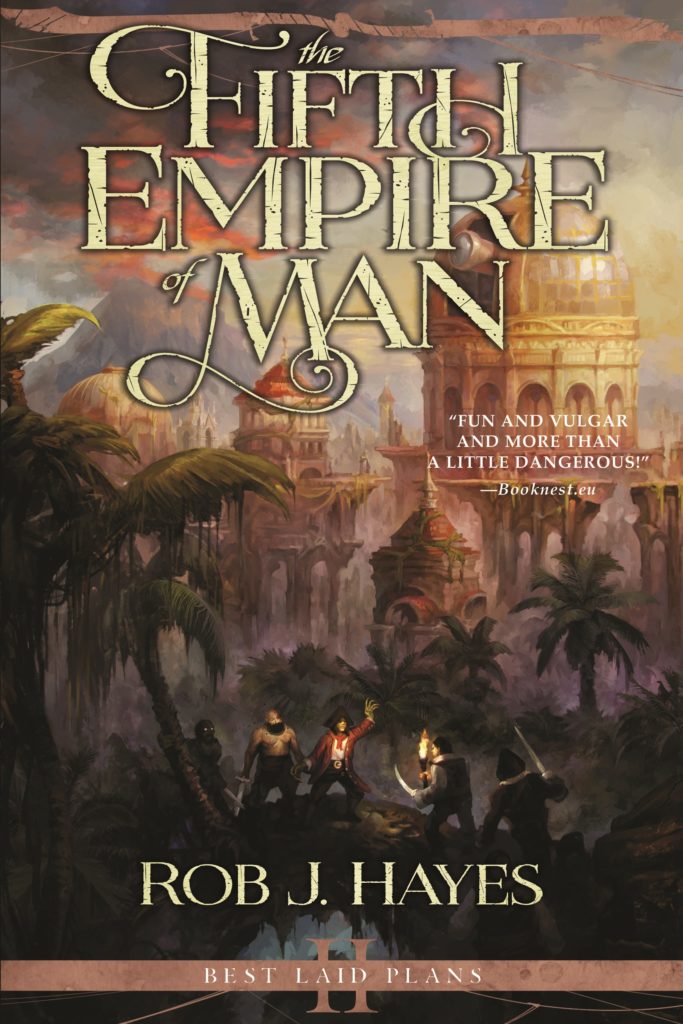 The Fifth Empire of Man: Best Laid Plans #2 (First Earth Saga)
The Pirate Isles are united under Drake Morrass' flag, but the war has only just begun.
There's still a long way to go before he's able to call himself King, and traitors at every turn. The Five Kingdoms and Sarth have assembled a fleet of ships unlike any the world has ever seen and they intend to purge the Pirate Isles once and for all by fire and steel.
Revenge, never far from Keelin Stillwater's mind, is finally within his grasp and he sets sail to the Forgotten Empire. But more than dense jungles and ruined cities await him there. Vengeful gods and malignant spirits now call those cursed lands home, and they are not wisely disturbed.
Meanwhile, Elaina Black tries to secure herself powerful allies and the forces those allies can spare. She's set her course on the throne: either by Drake's side or over his dead body.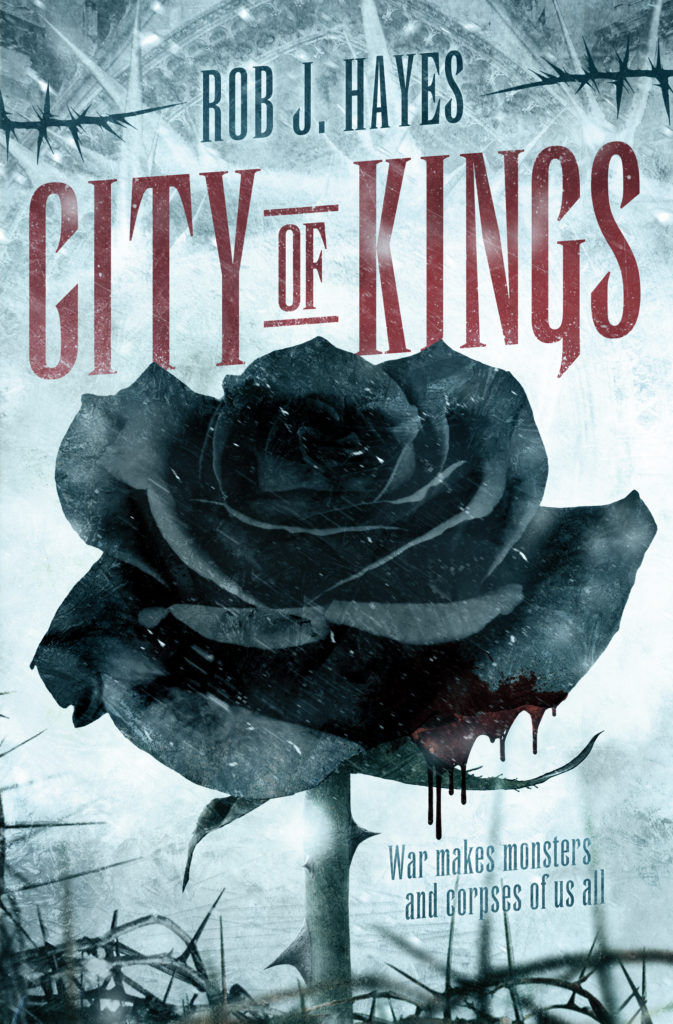 City of Kings (First Earth Saga)
War makes monsters and corpses of us all.
For generations the blooded have ruled the Wilds, cultivating a lawless frontier and bleeding the good folk dry. The Black Thorn, once the most wanted outlaw the world has ever seen, is set on stopping them, and bringing an end to the great game that oppresses them all.
Crucible is the only blooded fortress left, but not for nothing is it called the City of Kings. Its defences are unbreakable, its walls unassailable, all built so one hundred can hold back a thousand. Worse yet, the Black Thorn is running out of time and there are darker things hiding underground, looking to turn the city into a tomb.
City of Kings takes you back to the Untamed Wilds and is a stand alone First Earth Saga novel, designed to be read independently of the other series, yet also continuing to add to the ongoing larger story of First Earth.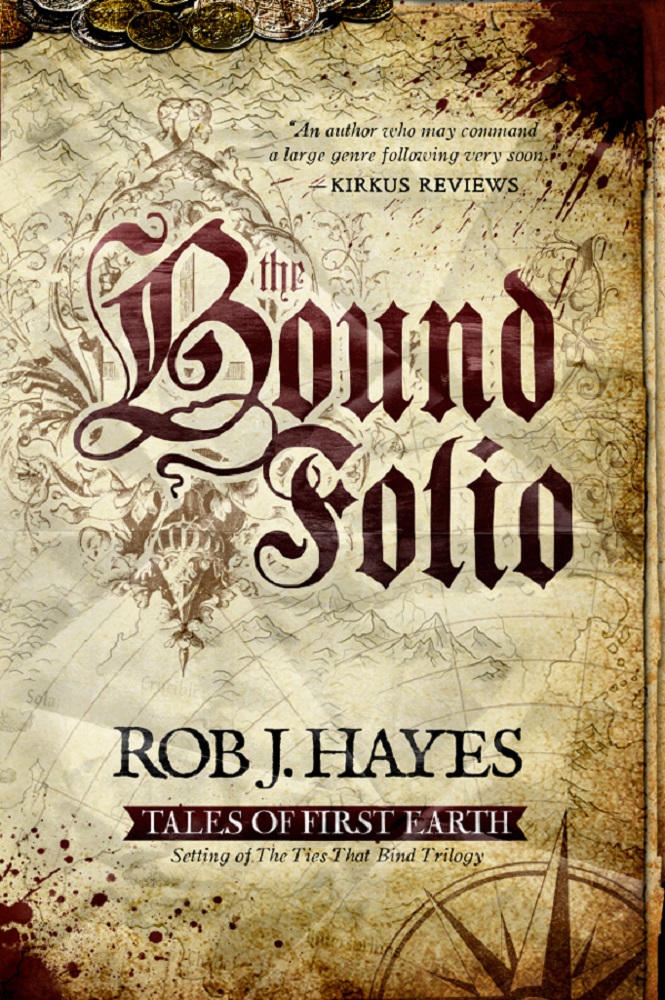 The Bound Folio (Short stories from First Earth)
The world is full of heroes, villains, and all the shades in between. The Bound Folio tells their stories from the tortured childhood of the legendary Blademaster the Sword of the North, to the humble origins of the Queen of the Five Kingdoms, to the death of one of the world's greatest assassins.
This anthology collects together eight dark stories of swords, sorcery, and seduction from First Earth, the setting of The Ties That Bind trilogy and the Best Laid Plans duology.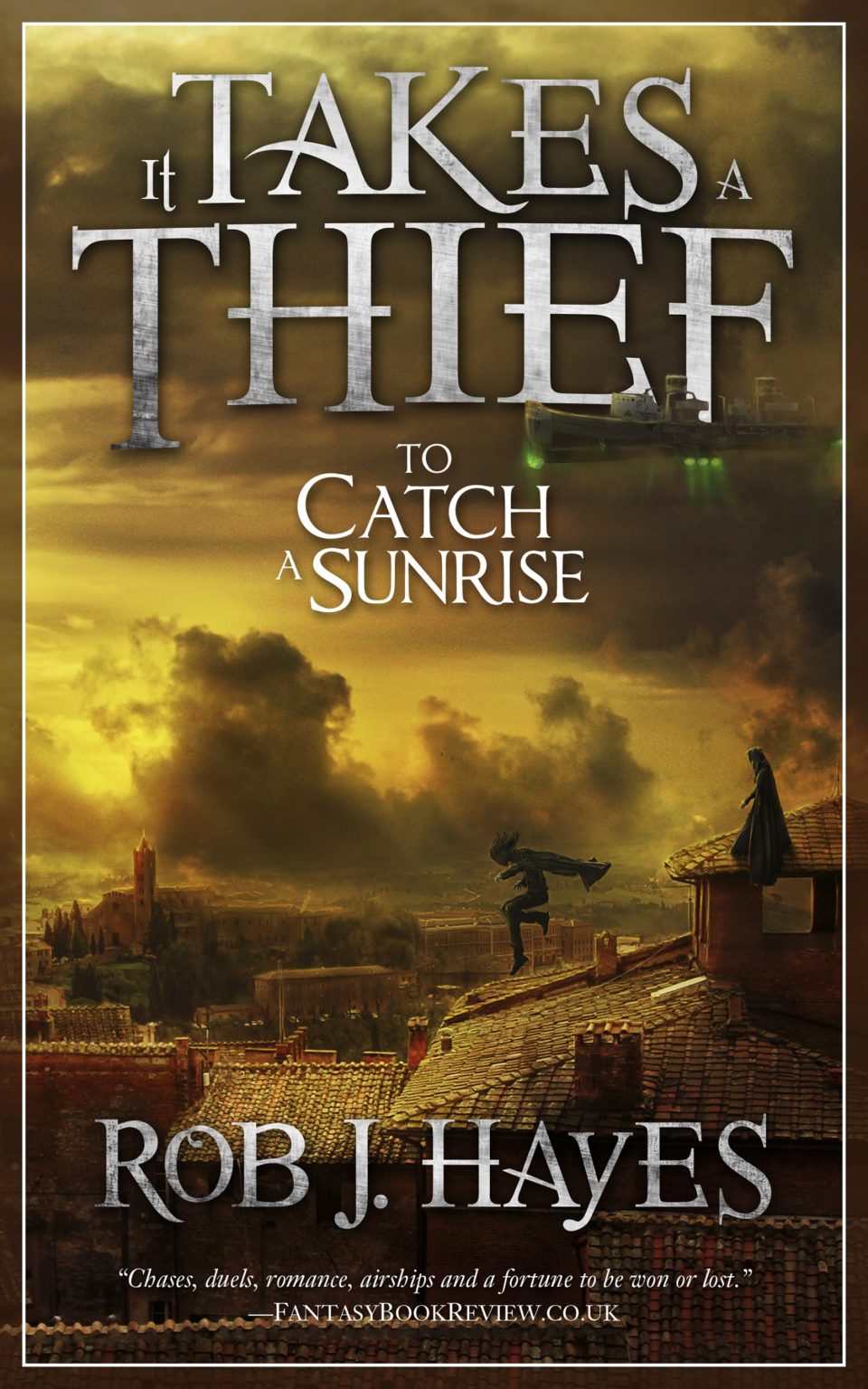 It Takes a Thief to Catch a Sunrise (It Takes a Thief... #1)
Jacques Revou and Isabel de Rosier are at the height of their careers. Of course those careers are as professional charlatans, thieves without peer. With the completion of their final heist, they decide it's time to retire and settle down. But they have not escaped unnoticed.
The king's spymaster, Renard Daron, has a job for the thieves, one only they can perform, and he does not take no for an answer. With the threat of destitution and death hanging over their heads, Jaques and Isabel must take on their greatest roles yet, the Baron and Baroness Bonvillain.
Can they ferret out the treasonous elements within the government? Can they escape the clutches of the nefarious Seigneur Daron? Can they regain the fortune so unfairly taken from them?
And can they finally complete their one last job?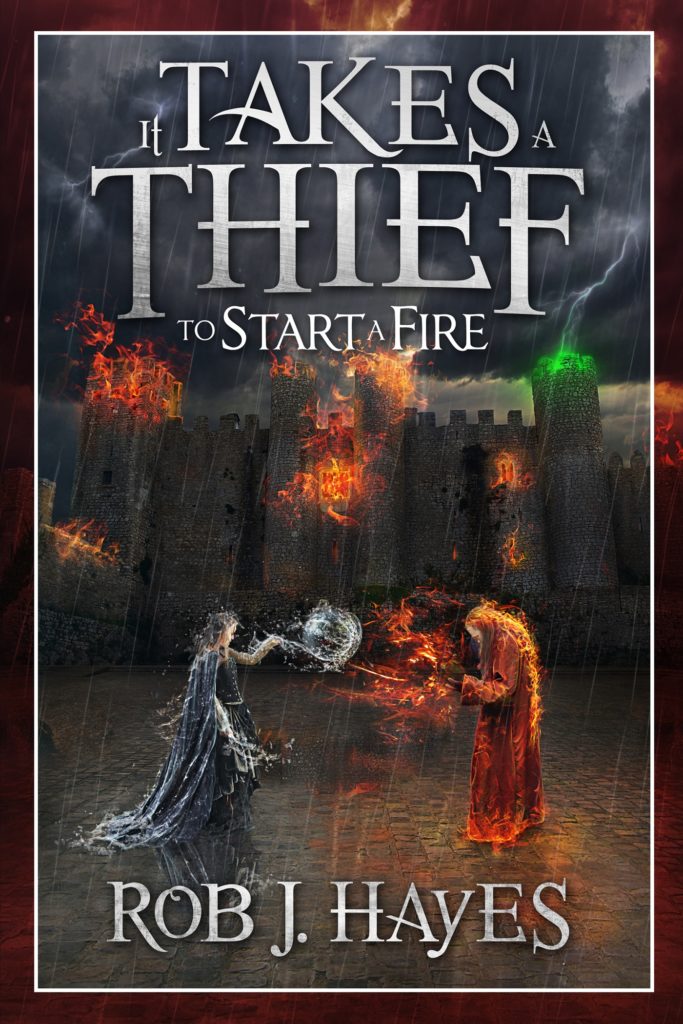 It Takes a Thief to Start a Fire (It Takes a Thief... Book 2)
Following hot on the heels of the events of It Takes a Thief To Catch a Sunrise, ...To Start a Fire sees Jacques Revou and Isabel de Rosier adapting to life in Great Turlain while competing against murderous fences, shadowy secret police, and a group of thieves who can control the very elements.
"We started our lives together with barely a coin to our name. We have won fortunes and lost them. We have stolen the un-stealable, survived plots and schemes determined to see us fall, and saved a Queen from certain death.
But sometimes a fresh start is exactly what is needed and here we can have just that. Free from devious machinations and troublesome reputations alike. Here we can go back to our roots.
A good thief gets out without being caught. A great thief makes it look as though they were never there. But we are neither good, nor great. We are the best."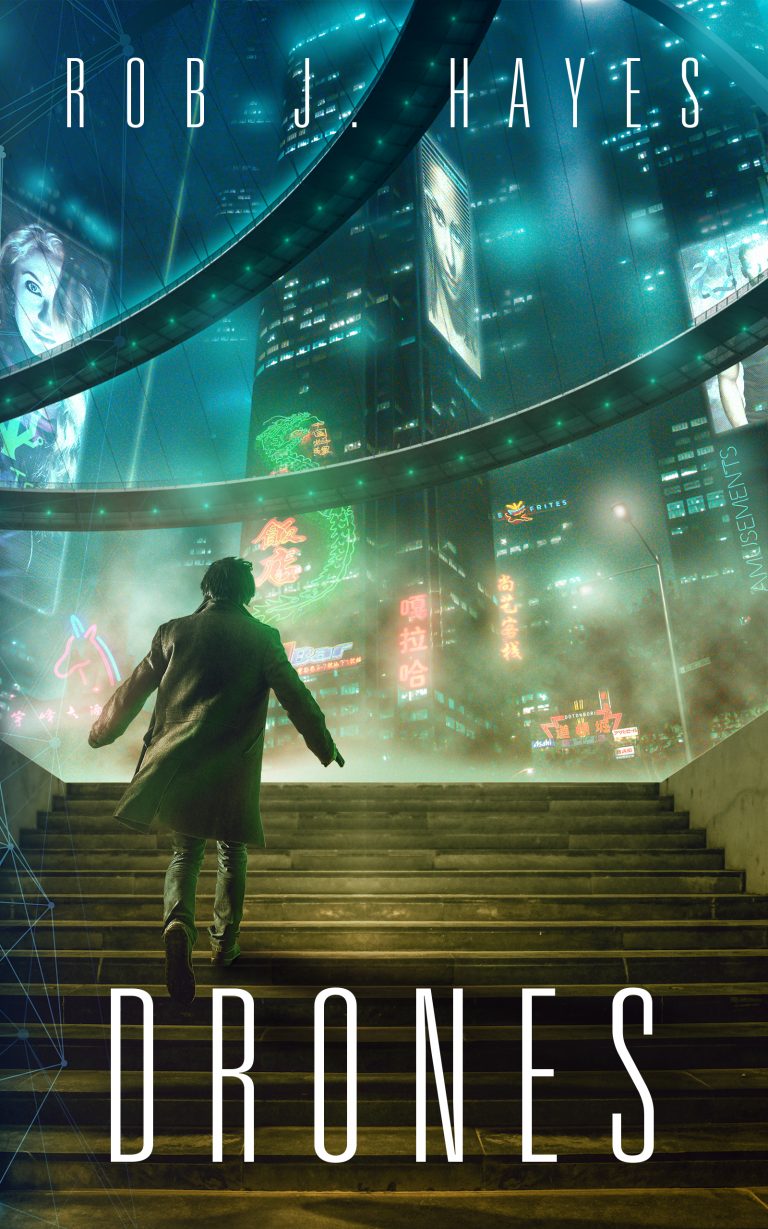 Drones
In the near future Emotional Transference is the drug of choice.
Garrick is a Drone, going to ever-increasing extremes in order to sell the emotions. But he does it for a reason—because some memories are just too painful to bear.
When his dealer is murdered, Garrick must search for a new way to remove his unwanted emotions, but soon finds himself embroiled in a plot that threatens to go deeper than he ever imagined. Between terrorists bent on preserving the inner space, assassins with a debt to pay, and a social media giant with its claws in the government, can Garrick survive long enough to uncover the truth and let the world know?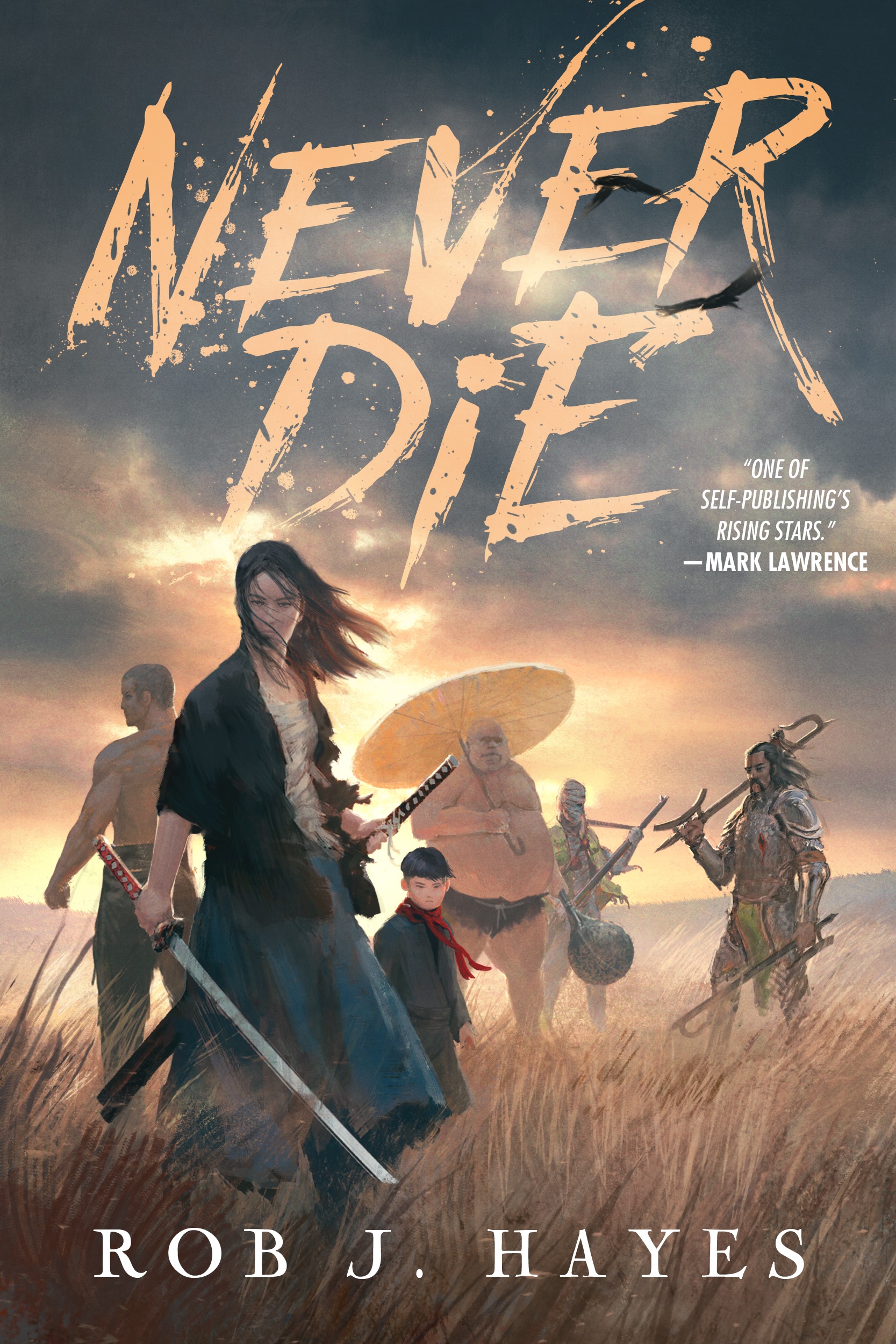 Never Die (The Mortal Techniques)
Ein is on a mission from God... The God of Death.
Time is up for the Emperor of Ten Kings and it falls to Ein, an eight-year-old boy, to render the judgement of the reaper. He can't do it alone, but luckily the world is full of travelling heroes. There's only one catch: In order to serve him, they must first die.
Never Die is a stand alone story set in the award-winning Mortal Techniques universe. It's a wuxia adventure filled with samurai, shinigami, heroes, and vengeful spirits.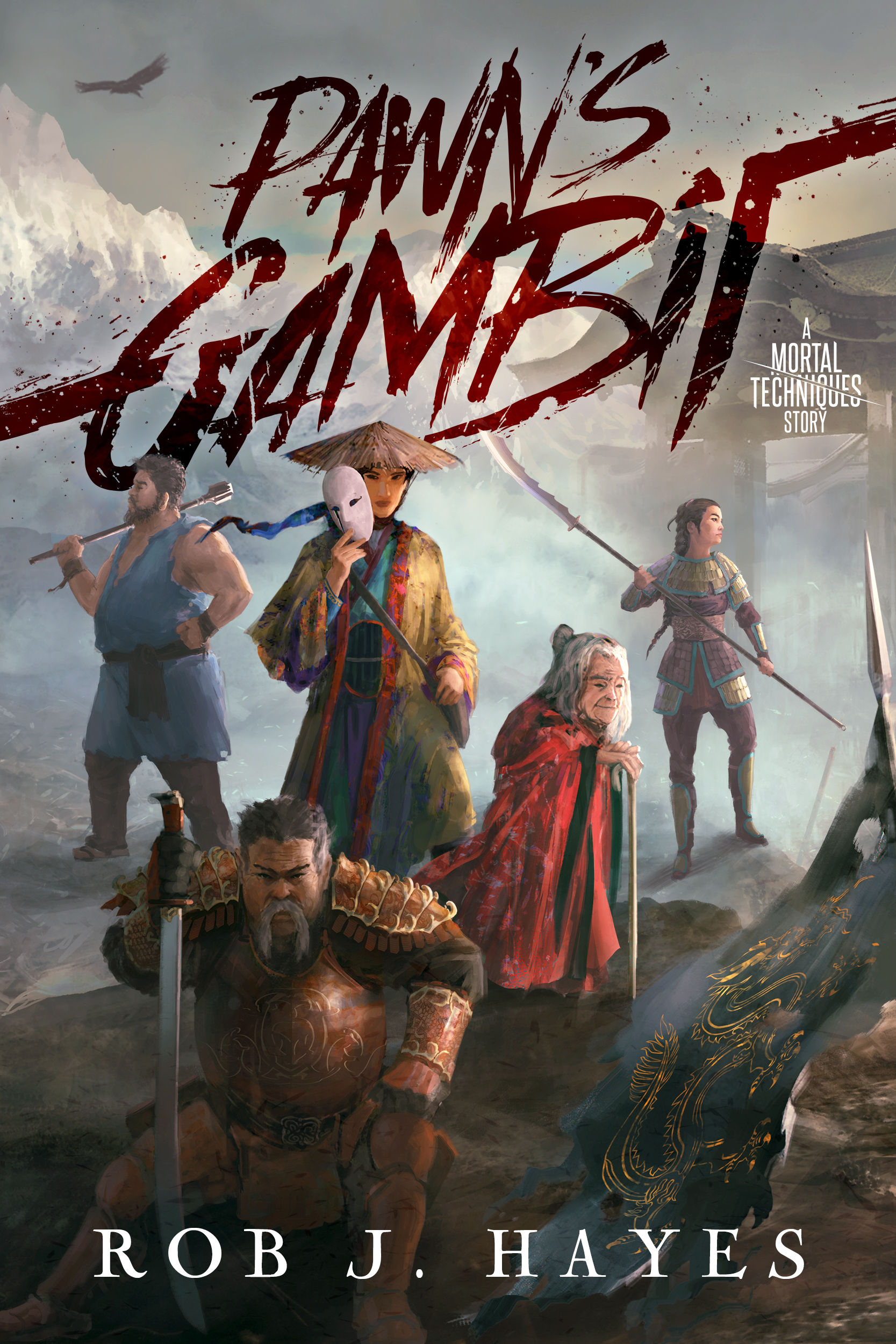 Pawn's Gambit: (The Mortal Techniques)
Yuu wants nothing more than to forget the mistakes of her past. The Gods have other plans.
Once a renowned strategist and general, five years ago Yuu made a mistake that cost her everything. Now she is on the run, royal bounty hunters snapping at her heels. But what if there was a way to get back what she lost, a way to bring back a murdered prince?
Every century, the gods hold a contest to choose who will rule from the Heavenly Jade Throne. Each god chooses a mortal champion, and the fate of all existence hangs in the balance. On a battlefield full of heroes, warriors, assassins, and thieves can Yuu survive long enough to learn the rules of the game, let alone master it?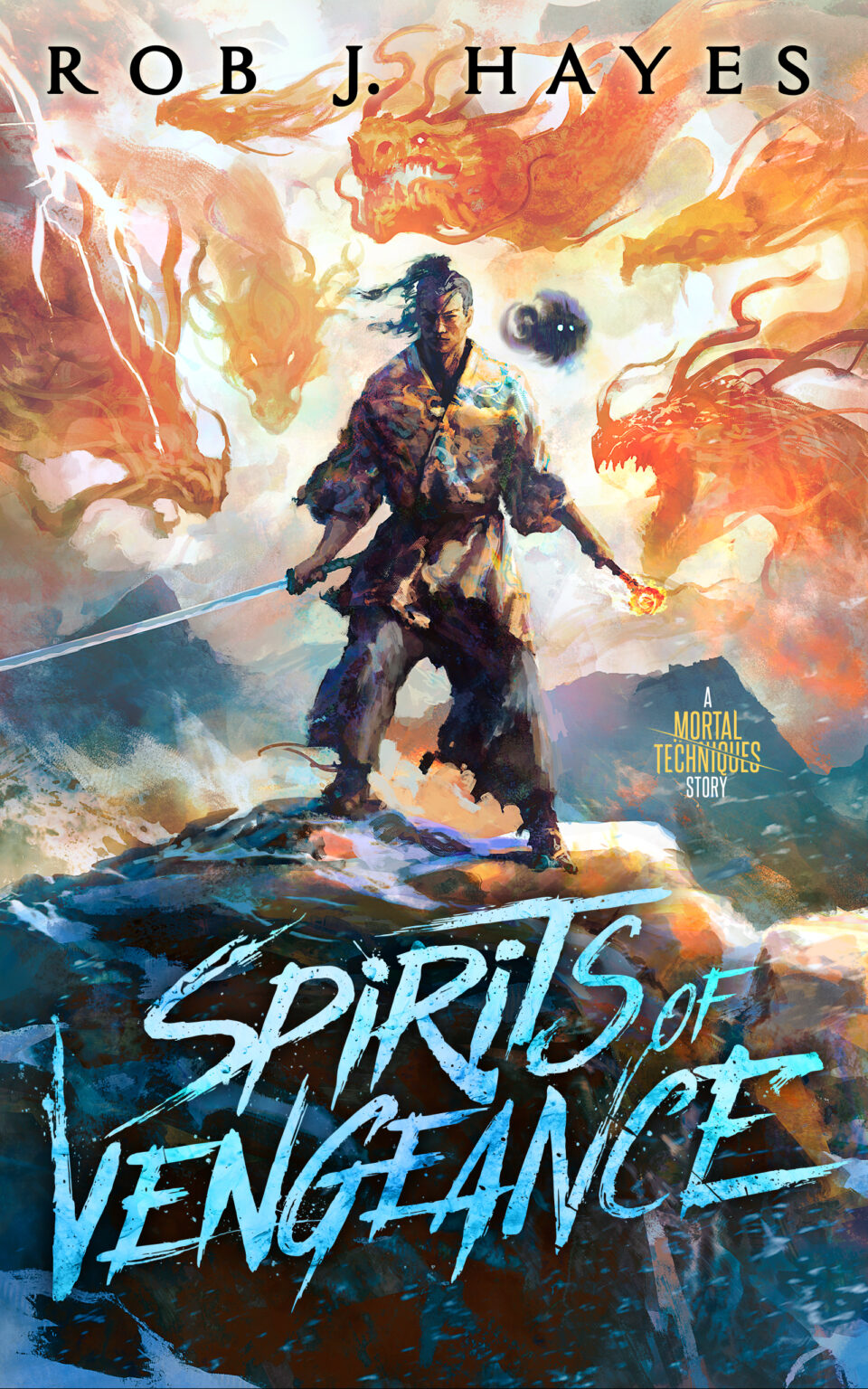 Spirits of Vengeance: (The Mortal Techniques)
Haruto swore his soul to the God of Death for the chance to hunt down the vengeful ghost of his wife. He'll die as many times as it takes.
Now an onmyoji, he's tasked by the Imperial Throne to hunt down monsters and malicious spirits. But he knows not all spirits are evil and not all deserve the peace of the sword.
The Ipian Empire was once a land that welcomed dragons and spirits alike, but a century of war and bloodshed has seen them all but vanish. Now, the lost things are returning and the Onryo have gathered. Five legendary spirits with mysterious powers, bent on freeing an ancient evil that would wreak havoc on humanity.
As a plague of spirits sweeps across the land, the Onryo leave a bloody trail for Haruto to follow. But who's hunting who?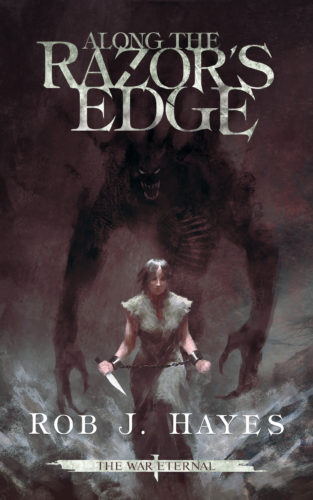 Along the Razor's Edge (The War Eternal #1)
At just fifteen Eskara Helsene fought in the greatest war mankind has ever known. She lost. There is only one place her enemies would send a Sourcerer as wild and dangerous as her. The Pit. A prison sunk so deep into the earth the sun is a distant memory.
Betrayed by her best friend, Eska finds herself stripped of her magic, surrounded by thieves and murderers. And there are far worse creatures that call the darkness their home. In order to survive she will need to make new allies, play the inmates against each other, and survive the darkness long enough to find a way out.
Her enemies will soon learn Eskara is not so easily broken.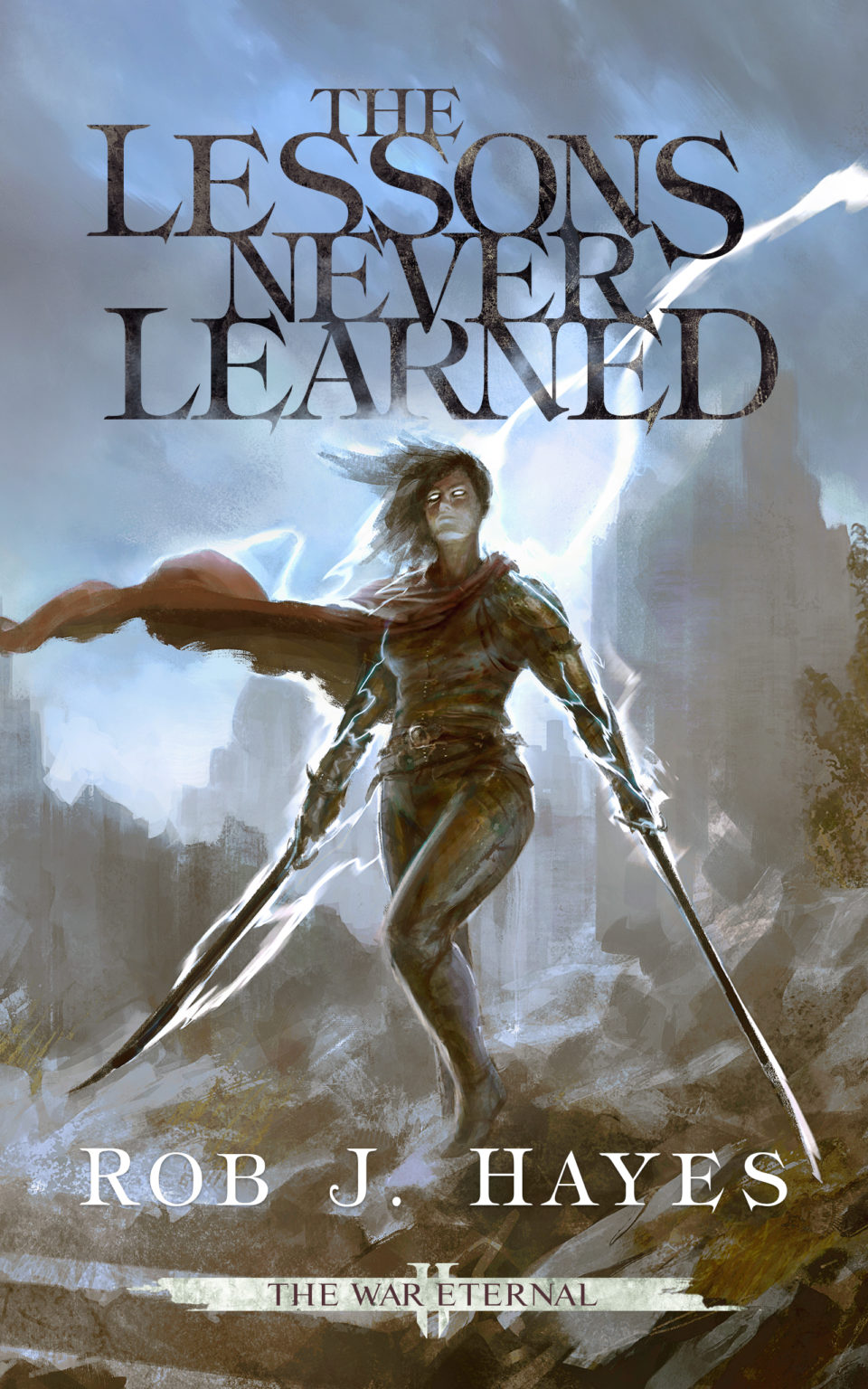 The Lessons Never Learned (The War Eternal #2)
Eskara is free of the Pit, but far from safe. She is beset by the ghosts of those she has killed, and plagued by the ancient horror that possesses her. Enemies dog her heels, determined to see the last Orran Sourcerer dead. Worse still, there is new player in the game, one far more dangerous than anything she has faced before.
But there is one place that might offer her both the safety she needs to survive, and the power she needs to strike back; Ro'shan, the flying home of a God. Eska will soon learn that all power comes with a cost, and some prices are too high.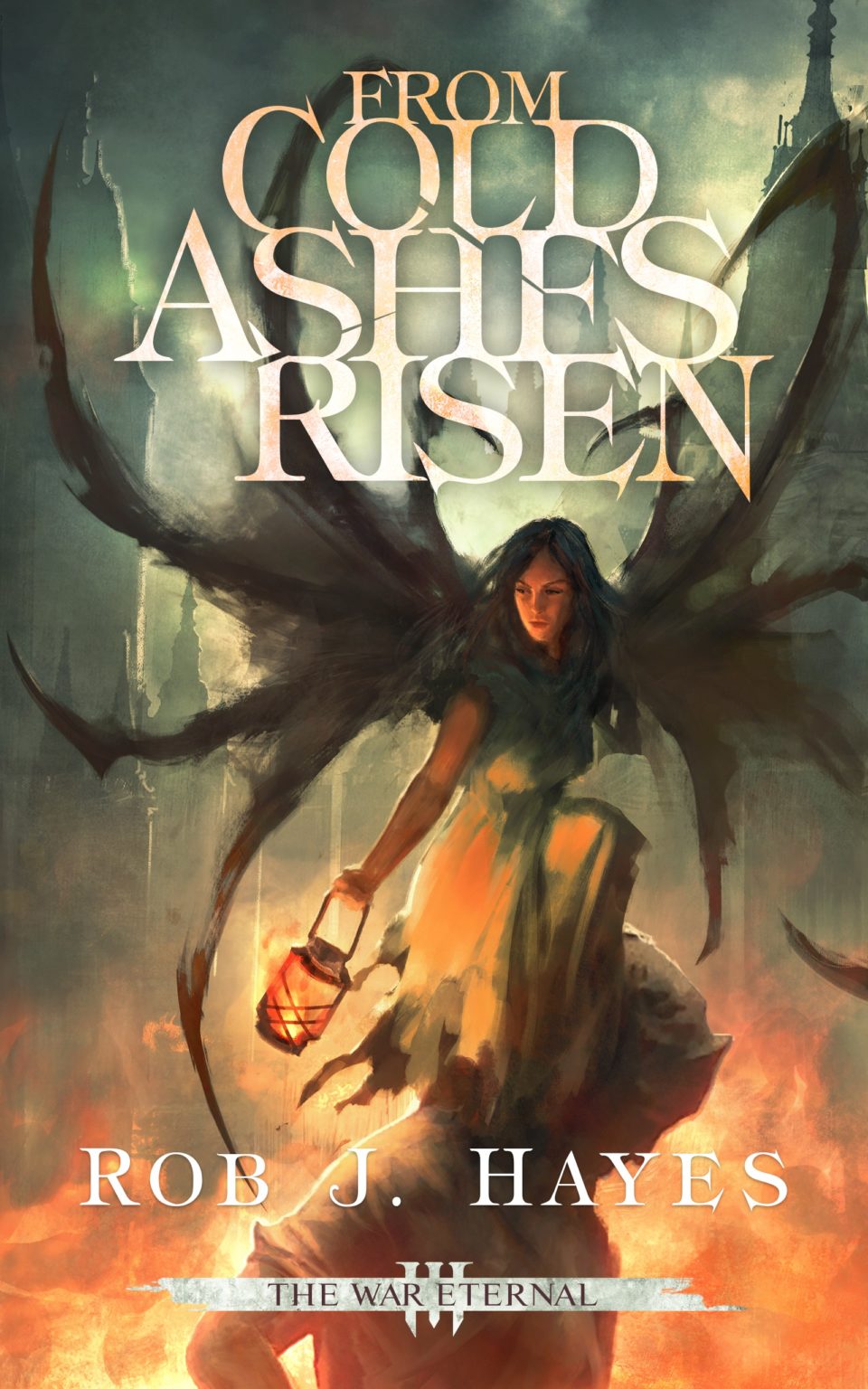 From Cold Ashes Risen (The War Eternal #3)
Eskara has lost everything. The War Eternal has cost her everything she loves, and the Iron Legion has taken the rest. Yet there is something that is still hers, something that kept her warm during her time in the Pit. Anger and a lust for vengeance. First on the list of those who must pay, the Emperor of Terrelan.
Her friends counsel peace, but her inner demons push for war, and Eska finds herself caught in the middle. Will she find a way to reap her vengeance? Or will the enemies of her past catch up to her first? One thing is certain. The world will soon know fear when the Corpse Queen ascends her throne.
Michael R. Fletcher's Books: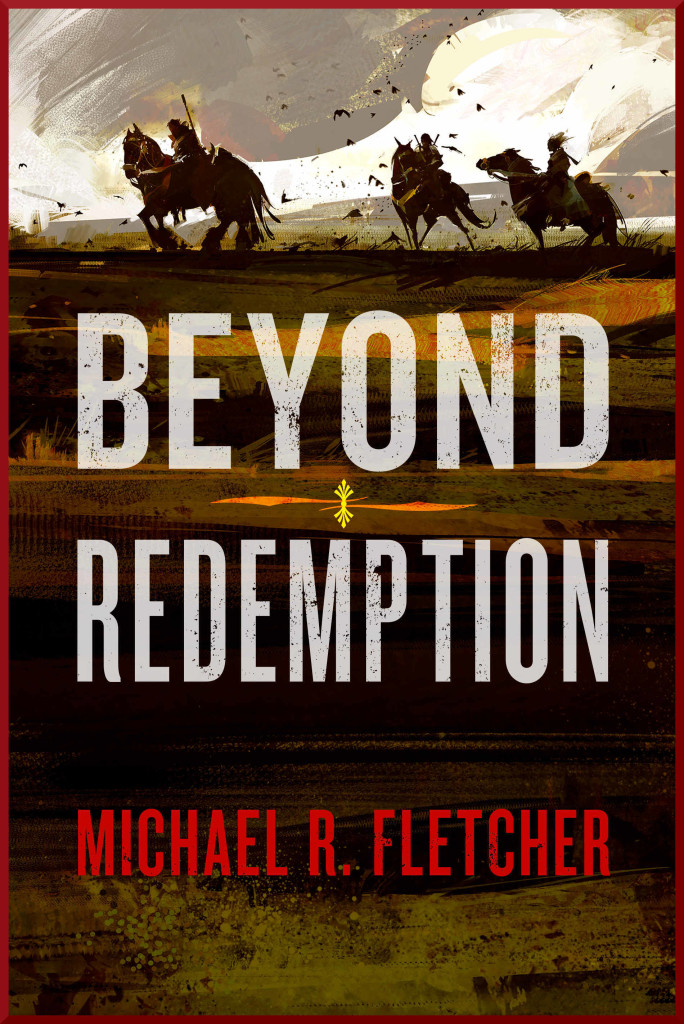 Beyond Redemption (Manifest Delusions #1)
Faith shapes the landscape, defines the laws of physics, and makes a mockery of truth. Common knowledge isn't an axiom, it's a force of nature. What the masses believe is. But insanity is a weapon, conviction a shield. Delusions give birth to foul new gods.
Violent and dark, the world is filled with the Geisteskranken--men and women whose delusions manifest, twisting reality. High Priest Konig seeks to create order from chaos. He defines the beliefs of his followers, leading their faith to one end: a young boy, Morgen, must Ascend to become a god. A god they can control.
But there are many who would see this would-be-god in their thrall, including the High Priest's own Doppels, and a Slaver no one can resist. Three reprobates--The Greatest Swordsman in the World, a murderous Kleptic, and possibly the only sane man left--have their own nefarious plans for the young god.
As these forces converge on the boy, there's one more obstacle: time is running out. When one's delusions become more powerful, they become harder to control. The fate of the Geisteskranken is to inevitably find oneself in the Afterdeath.
The question, then, is: Who will rule there?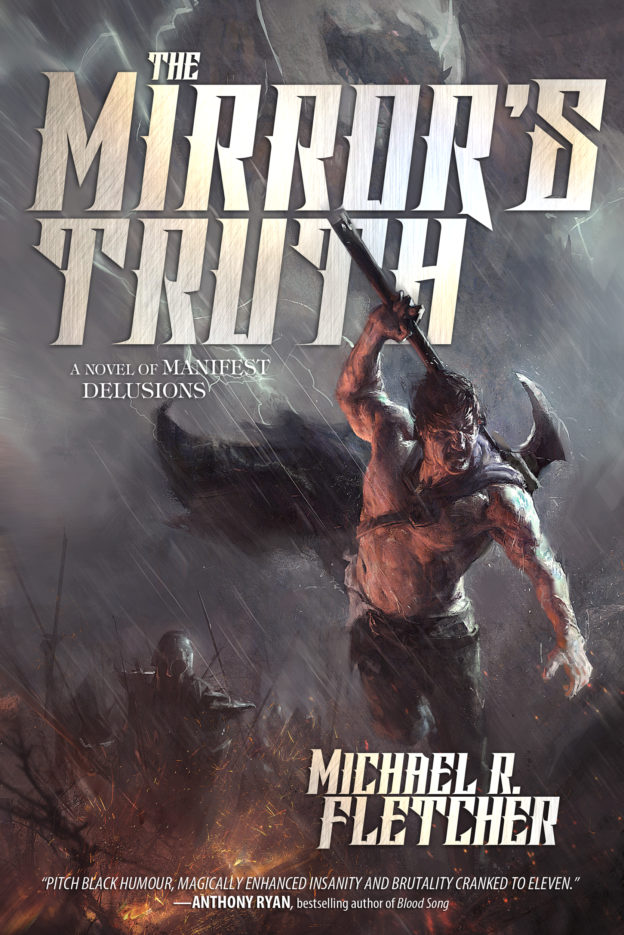 The Mirror's Truth (Manifest Delusions #2)
Where belief defines reality, delusions are both strength and curse: The deeper you sink into madness the more powerful you become. But that power comes with a price. Your darkest nightmares hunt you at night. The face in the mirror hates you and wants to be free. Your fears manifest and plot your destruction.
Bedeckt defined himself by the list of crimes he was unwilling to commit. It was such a short list. How could straying from it have gone so wrong?
Now Bedeckt must undo the damage caused by wandering from his precious list. The Geborene god seeks to remake the world with his obsessive need for cleanliness and perfection, but Bedeckt is going to bring him down. Nothing can stop him. Not even death.
The two friends he abandoned in the Afterdeath chase after Bedeckt, bent on revenge. Psychotic assassins hunt him. Something cold and evil follows, lurking in the clouds above, shredding reality with its delusions. Madness and sanity war, stretching and tearing the very fabric of existence.
The dead shall rise.
Black Stone Heart (The Obsidian Path #1)
A broken man, Khraen awakens alone and lost. His stone heart has been shattered, littered across the world. With each piece, he regains some small shard of the man he once was. He follows the trail, fragment by fragment, remembering his terrible past.
There was a woman.
There was a sword.
There was an end to sorrow.
Khraen walks the obsidian path.
She Dreams in Blood (The Obsidian Path #2)
Drawn by the shards of his obsidian heart, Khraen follows the path south. The islands, largely ignored by the Wizard's Guild, have become a refuge for the unwanted of the world. Necromancers and sorcerers rule warring tribes haunted by the ghosts of savage and primal gods. With each fragment Khraen discovers more of the man he was.
There was an Empire.
There was a god.
And she dreamed in blood.
An End to Sorrow (The Obsidian Path #3)
Abandoned by his god and chained in the bilge of Iremaire's war galley, Khraen has lost everything.
His only friend is dead, his wife beheaded and thrown into the ocean.
In an act of true self-destruction, a shard of Khraen's heart stalks the islands destroying the others.
His sword calls him home to PalTaq, where it all began.
Only there can Khraen find an end to sorrow.
Norylska Groans
Norylska Groans...
with the weight of her crimes. In a city where winter reigns amid the fires of industry and war, soot and snow conspire to conceal centuries of death and deception.
Norylska Groans...
and the weight of a leaden sky threatens to crush her people. Katyusha Leonova, desperate to restore her family name, takes a job with Norylska's brutal police force. To support his family, Genndy Antonov finds bloody work with a local crime syndicate.
Norylska Groans...
with the weight of her dead. As bodies fall, the two discover a foul truth hidden beneath layers of deception and violence: Come the thaw, what was buried will be revealed.
Smoke and Stone (City of Sacrifice Book 1)
After a cataclysmic war of the gods, the last of humanity huddles in Bastion, a colossal ringed city. Beyond the outermost wall lies endless desert haunted by the souls of all the world's dead.
Trapped in a rigid caste system, Nuru, a young street sorcerer, lives in the outer ring. She dreams of escape and freedom. When something contacts her from beyond the wall, she risks everything and leaps at the opportunity. Mother Death, a banished god seeking to reclaim her place in Bastion's patchwork pantheon, has found her way back into the city.
Akachi, born to the wealth and splendour of Bastion's inner rings, is a priest of Cloud Serpent, Lord of the Hunt. A temple-trained sorcerer, he is tasked with bringing peace to the troublesome outer ring. Drawn into a dark and violent world of assassins, gangs, and street sorcerers, he battles the spreading influence of Mother Death in a desperate attempt to save Bastion.
The gods are once again at war.
Ash and Bones (City of Sacrifice Book 2)
Smoking Mirror spoke in smoke and stone.
Having returned Mother Death to Bastion, Nuru flees to the inner rings. The Loa heretics seek to turn her to their own ends and topple the nahual from power. As Bastion crumbles, Nuru contemplates the ultimate blasphemy: A world without gods.
Broken by his battle with Mother Death, Akachi awakens with renewed purpose. He must hunt the blasphemers who would destroy his beloved city. Armed with the Staff of the Fifth Sun he stalks Nuru through Bastion's rings. The survival of all humanity rests on his shoulders.
Nothing is as it seems. Smoking Mirror, god of discord and strife, plots behind the scenes. He manipulates gods and men alike in a game as old as time.
From the lowest Grower to the gods at her heart, Bastion is once again at war.
A Collection of Obsessions: The Short Stories of Michael R. Fletcher
From cyberpunk to Manifest Delusions, this is collection of 17 short stories is rife with my obsessions. Some of these have previously been published, some have not.
Stories Included: Intellectual Property, The Broken Dead, Death at the Pass, Death and Dignity, A Second Chance, The Summer of '79, The Commuter, Less Than 20/20, At the Walls of Sinnlos, Personality Pirate, Character is What You Are, The Message, The Undying Lands, Just Like the Rain, Artificial Stupidity, Fire and Flesh, The Invisible Assassin.
The Millennial Manifesto
Only barbarians plot terrorism before tea.
Tired of ineffectual marches and rallies, Millennials turn to terrorist tactics to force change on Corporate America. Setting their sights on the company responsible for poisoning the local water supply, they declare war.
But now they swim with sharks.
After all, you don't claw your way to the top of the corporate ladder by being a pushover.